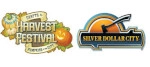 Silver Dollar City
Silver Dollar City's Harvest Festival
Silver Dollar City
399 Indian Point Rd, Branson, MO 65606
Sep. 15th - Oct. 28th
Experience Silver Dollar City's Harvest Festival featuring Craft Days filled with NEW artisans each week and Pumpkins In The City by night with thousands of illuminated pumpkins with non-frightful fun for the entire family!

Garden Of Giants
You Have To "Seed" It To Believe It!
Wilson's Farm surrounding The Giant Swing is proud to have The Garden Of Giants call it home this fall! Here's where you'll see and photograph hulking half-ton homegrown pumpkins that are literally larger-than-life. With fun names like Mighty Mabel and Brutus The Vast, each of the horticultural wonders is grown in the USA by master gardeners before making their way to Mr. Wilson's Farm.

Delicious Fall Flavors
What would autumn be without the season's most beloved flavors? From hearty skillets and pumpkin-infused savory items to sweet treats and desserts, you'll want to eat your way through the park this fall!

Pumpkins In The City
This glowing event is getting even BIGGER & BRIGHTER with an expansion coming this fall! Don't miss thrilling RIDES INTO THE NIGHT, thousands of illuminated pumpkins and non-frightful fun for the entire family.